The telltale signs of a seller's market have made themselves very apparent in the Bozeman real estate market: low inventory and soaring demand has induced fierce competition amongst buyers, leading to higher median sales prices and fewer days on the market. Even amidst a pandemic, record low mortgage rates have spurred a home buying frenzy nationwide. So what does this mean for homeowners here and how can they take advantage of current market trends? Below we take a look at the 2020 market data provided by the Gallatin Association of Realtors to explain why it's a good time to sell your house in Bozeman.
Table Of Contents
It's A Seller's Market In Bozeman Real Estate
What Is A Seller's Market?
To put it plainly, a seller's market is one in which there are more home buyers than sellers. Outsized demand generally means that sellers have the upper hand in negotiations- perhaps going under contract quickly, getting offers over asking price, or receiving minimal demands from buyers. Homebuyers can expect increased competition for homes, thus having to bid higher and work harder to woo sellers into accepting their offer. Cash offers carry more significance in this market too.
Current State of the Bozeman Real Estate Market
After a turbulent year, we've seen some remarkable changes take place, especially in our homes. Contrary to the circumstances of the last economic recession, real estate activity took flight after the economy ground to a halt in the spring. Spending excess time in our homes naturally shifted housing into focus and as a result the Bozeman and Gallatin County real estate markets are feeling the effects of a nationwide relocation phenomenon. This being reflected in rapid changes to median sales prices, average sales price average, days on the market, and the inventory of homes for sale.
Higher Median Sales Price
Median Sales Price For Gallatin County in December 2020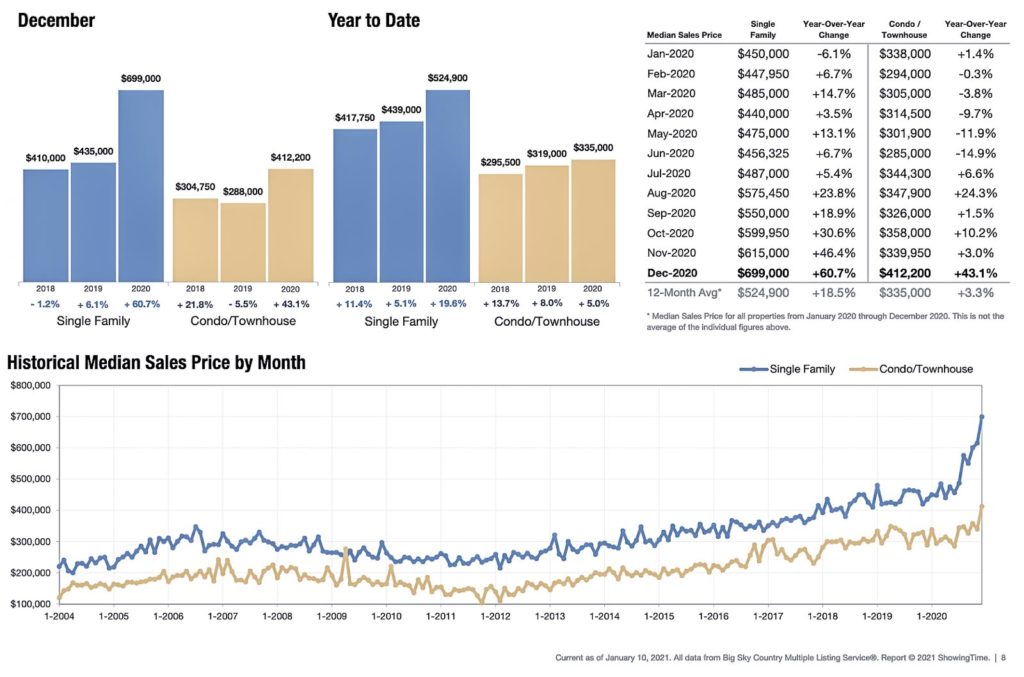 Source: Gallatin Association of Realtors
In Gallatin County, the median sales price for single-family homes in December 2020 was at $699,000, up a dizzying 60.7% from $435,000 in December of 2019. Looking at the 12-month average for 2020, we see a more modest increase at 10.7%, with growth predominantly taking place in the last six months of the year. This ascent primarily took place in the Big Sky Area. We also saw significant growth in other markets such as Beaverhead county (+41.2%), Jefferson County (+29.5%) and Greater Manhattan (+27.2%). 
Median sales prices is the point at which half of the sales sold for more, and half sold for less, not accounting for seller concessions, in a given month.
Luxury and High End Markets Driving Up Average Sales Prices
Average Sales Price For Homes in Gallatin County In December 2020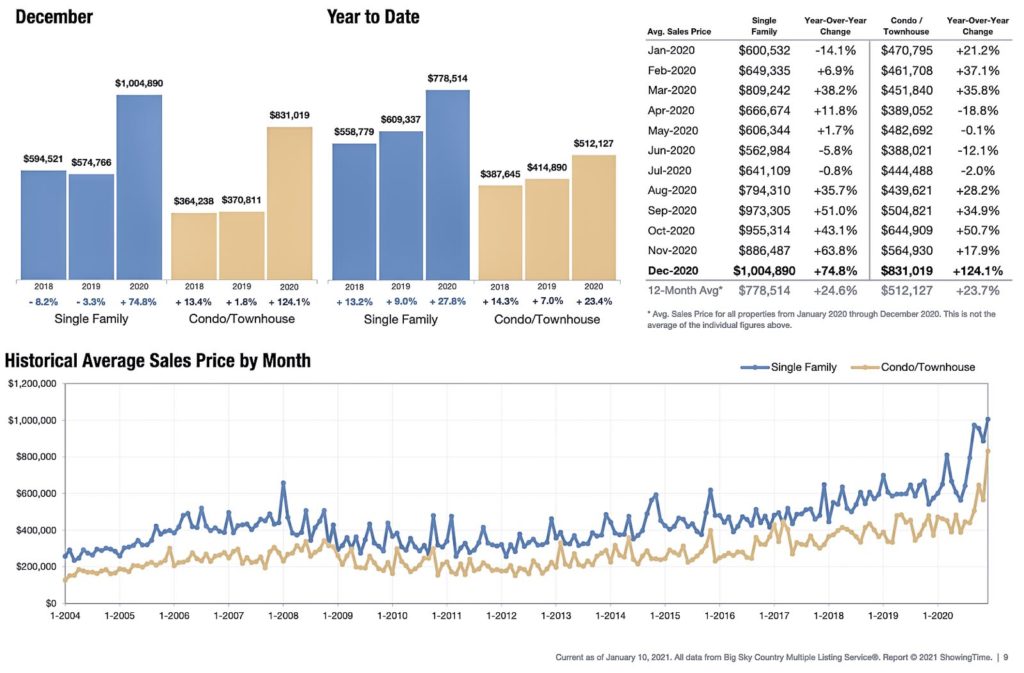 Source: Gallatin Association of Realtors
The luxury and high-end markets in Montana have absolutely taken off in the post-covid boom, with buyers putting premiums on extra space and privacy statewide and real estate brokerages breaking records across the state. In the month of December 2020, the average sales price for homes in Gallatin County nearly doubled, rising from $487,736 to $931,494 in just one year. With fewer homes being listed, it is easy to see that sales from luxury properties in very hot markets are driving this metric further up, and median sales prices are rising with it. It will be important to see how this metric trends later into 2021, as more houses hit the market in the spring season.
Average sales price is determined by the average price of all closed sales not accounting for seller concessions, in a given month.
Fewer Average Days On The Market
Average Days On The Market For Homes In Gallatin County In December 2020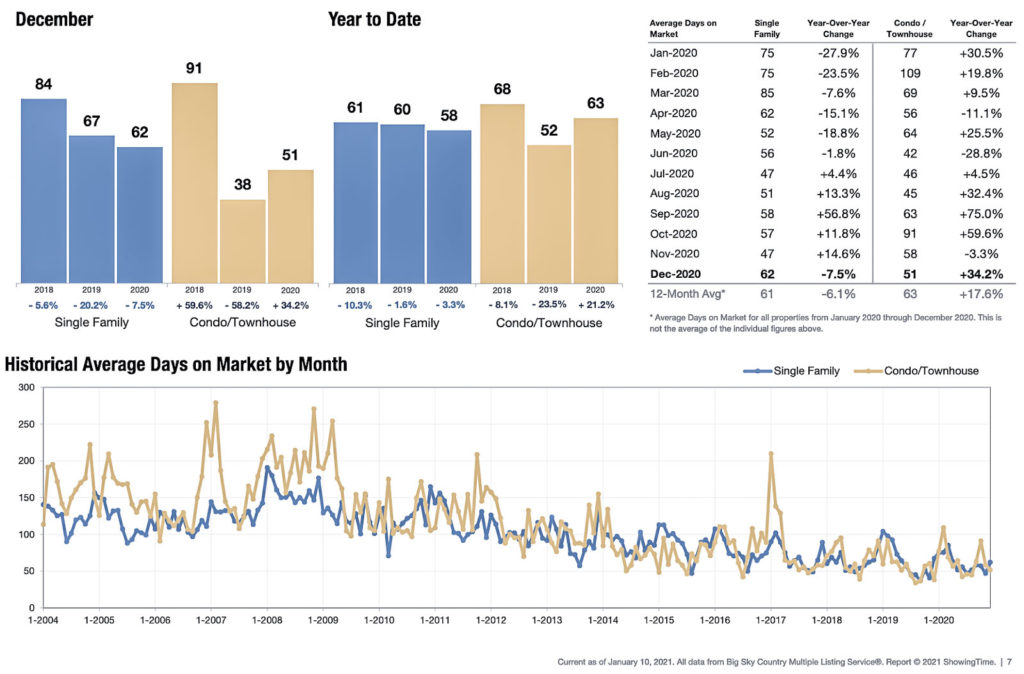 Source: Gallatin Association of Realtors
Single-family homes spent an average of 62 days on the market in December of 2020, coming down from 67 days in 2019 and 84 days in 2018. The overall trend is working its way downward (-6.1% overall in 2020), with July of 2020 recording an average of just 47 days on the market.
The average days on the market is determined by the average number of days between when a property is listed and when an offer is accepted in a given month
Lower Inventory of Homes For Sale
Inventory of Homes For Sale In Gallatin County In December 2020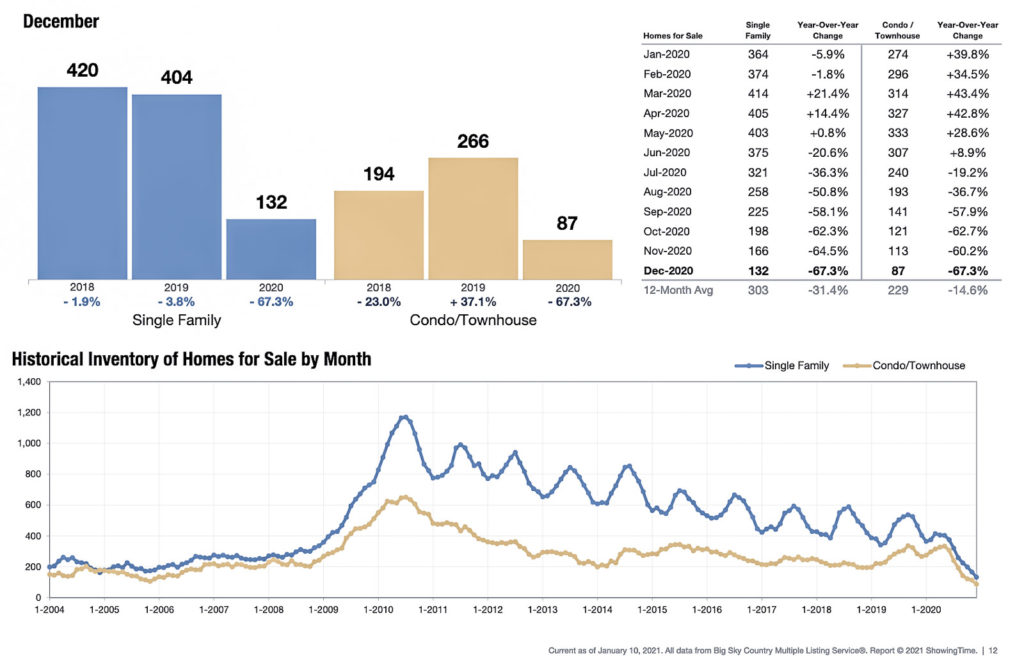 Source: Gallatin Association of Realtors
Homes for sale in Gallatin County in December 2020 fell sharply, the year closing out with just 222 homes on the market. This is a significant 75% drop from 673 homes for sale in 2019, especially considering that housing inventory in May 2020 was at 736. Since then we've seen fewer homes on the market for an outsized population of buyers. Inventory is expected to remain historically low as 2021 continues forward.
The inventory of homes for sale is determined by the number of properties available for sale in active status at the end of a given month
Selling A House In A Low Inventory Market
Low inventory is something we are used to seeing after 10+ years of steady population growth, however the latest housing crunch is quite severe. We always advise partnering with a realtor to sell your house and it is paramount when we see market volatility such as this. Even in a seller's market, you don't want to make the mistake of pricing your home too high. A correctly priced home will have fewer hurdles to closing and get more offers on your home.
Why It's A Good Time To Sell Your House In Bozeman
With buyer demand showing no signs of slowing amidst a diminished housing supply, you can expect to see a continuing trend of rising home sale prices. This is great for current homeowners as their home values have likely appreciated in the past few years. Homeowners wanting to sell can take advantage of low interest rates too. Average interest rates as of December 2020 were at a record low of 2.67% for a 30-year, fixed-rate mortgage, compared to 3.45% in March 2020 and 4.64% in December 2018. Interest rates are expected to rise as the year progresses but still remain historically low.
While it is a seller's market, it can still be disconcerting to sellers who may have to find a new residence on short notice. The timing of selling a home to buy another in a competitive market is tricky but can be done with appropriate experience and nuance. Be sure to hire an expert who understands the local market well and can walk you through every step of the process.
Ultimately the best time to sell is always when you're ready. As a homeowner, you should consider the reasons why moving makes sense right now. If you find yourself in a starter home needing to add more livable space, or rather you need to downsize into something more manageable, take advantage of the current market. Greater bargaining power as a seller means buyers are more willing to negotiate in order to close. If you want your home in front of motivated buyers and under contract quickly, a seller's market is an ideal scenario to find yourself in.
---
Start looking into listing prices for homes in your area right here in our advanced search. Or contact us for an accurate valuation on your home. Please don't hesitate to reach out if you have any questions or want to know how this might impact your particular situation. I'm here to simplify things for you.
---